It may not be fair to just look at (and compare with) the income of people of all ages.
So, in this post I present a graph of the median monthly income of managers and professionals
against age groups
.
The chart is based on wage data from the
Report on Wages in Singapore 2006
. Again, note that the MOM wage data
do not
include performance bonuses, profit sharing and stock options.
So, if you're a 37-year-old manager and making about $6,000 a month in gross income, you are right in the middle of your age group. In pay and in age!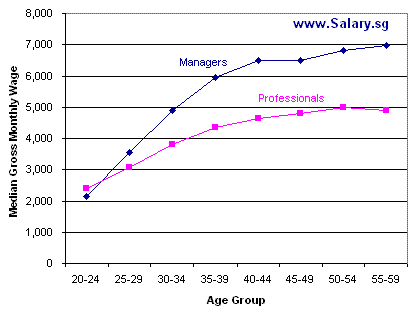 From the graph, it's not hard to tell that it's better to be a "manager" than a "professional" in Singapore.
http://www.salary.sg/2007/median-income-by-age-group/